We Are Open For Pediatric
Physiotherapy Consultation in Gurgaon!
Fill the form and let us call you back.
Paediatric Physiotherapy Clinic in Gurgaon
Pediatric Physiotherapy: Nurturing Your Child's Well-Being
Pediatric care is a vital pillar of the healthcare industry, dedicated to providing expert attention and treatment to children of all ages. At PhysioHeal Physiotherapy, we understand that children require specialized care that differs significantly from adult healthcare. Our commitment is to ensure that every child receives optimal care throughout their developmental journey.
Why Pediatric Physiotherapy Matters
Pediatric physiotherapy is a crucial segment of children's healthcare, addressing perinatal conditions, early childhood diagnoses, and childhood injuries. Children's health is distinct from that of adults, and our specialized pediatric physiotherapy clinic in Gurgaon is designed to cater to their unique needs.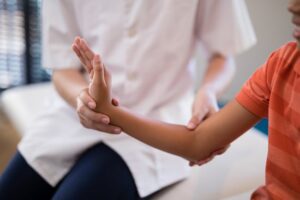 Comprehensive Pediatric Care
Our pediatric physiotherapy clinic in Gurgaon offers comprehensive and collaborative care tailored to each child's requirements. Our expert team of physicians specializes in neurological, developmental, cardiorespiratory, orthopedic, and other conditions. Our mission is to enhance their functionality and foster independence.
Meet the Best Pediatric Physiotherapist in Gurgaon
To access the best pediatric physiotherapist in India, contact PhysioHeal today. Dr. Divya Gaur, our leading pediatric physiotherapist, possesses specialized knowledge in children's movement, development, and conditions. Her treatment plans encompass massages, mobilization, stretching, therapeutic exercises, and posture education, ensuring optimal physical development for children of all ages.
Physiotherapy Clinic for Infants and Children
Babies and children are inherently active and curious beings. Pediatric physiotherapists play a pivotal role in fostering their physical development. At PhysioHeal, we offer the best physiotherapy for infants, guiding parents with stretching and positioning exercises. Our infant physical therapy programs are customized to address specific needs and challenges, including breathing difficulties, sensory impairments, orthopedic conditions, and suspected neurological or chromosomal issues.
About Dr. Divya Gaur – Your Trusted Pediatric Physiotherapist
Dr. Divya Gaur, a seasoned NDT/SI therapist at PhysioHeal, boasts extensive experience in pediatric rehabilitation. Her expertise spans treating various conditions such as cerebral palsy, brachial palsy, spina bifida, developmental delay, brain injuries, peripheral nerve injuries, dystrophies, myopathies, and orthopedic issues in children. Dr. Gaur tailors intervention plans to each child's unique needs, ensuring the best possible outcomes.
Experience Holistic Pediatric Care at PhysioHeal
At PhysioHeal, we go beyond conventional treatments, offering acupuncture combined with other therapies to achieve the best results. For a comprehensive assessment with our specialist physiotherapists, call PhysioHeal at +91-9999259307 today or book an appointment online. Nurture your child's well-being with the best pediatric physiotherapy in Gurgaon.