We Are Open For Post-Surgical Rehabilitation in Gurgaon!
Fill the form and let us call you back.
Post-Surgical Rehabilitation: Restoring Health with Physioheal Physiotherapy Gurgaon
Introduction to Post-Surgical Rehabilitation: Nurturing Recovery
Explore the world of post-surgical rehabilitation, an essential phase after various surgical procedures such as orthopaedic, cardiac, thoracic, neurological, and abdominal surgeries. Each surgery type comes with unique post-operative challenges that can be effectively addressed through physiotherapy interventions.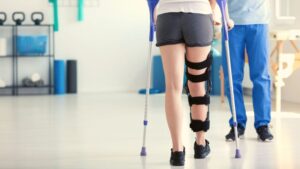 Understanding Post-Operative Consequences
Different surgeries entail diverse post-operative consequences that can benefit from physiotherapy:
Orthopaedic Surgery: Address pain, reduced strength, limited range of motion, posture issues, swelling, and coordination problems.
Cardiac/Thoracic Surgery: Tackle pain, reduced exercise capacity, breathing difficulties, mobility reduction, and postural concerns.
Neurological Surgery: Mitigate weakness, breathing challenges, muscle shortening, reduced mobility, and loss of sensation.
Abdominal Surgery: Alleviate pain, breathing difficulties, mobility issues, and continence problems.
Additional Issues: Address post-surgical infection, decreased lung function, and the risk of deep vein thrombosis.
The Role of Physiotherapy in Post-Surgical Recovery
Immediate post-operative physiotherapy begins during your hospital stay. But the journey towards complete recovery continues after discharge, ensuring optimal results. Our dedicated physiotherapy team guides you through a range of exercises, strengthening and mobilizing affected joints and muscles. These exercises aid in enhancing circulation, addressing respiratory challenges, and countering muscular weaknesses that may have developed during your hospitalization.
Further Benefits of Physiotherapy Include:
Effective Pain Management
Restoration of Daily Activities
Strengthening Weakened Muscles
Easing Stiff Muscles
Reclaiming Pre-Surgery Levels
Improving Posture
Regaining Independence
Boosting Confidence and Reducing Anxiety
Mobilization Exercises for Improved Circulation and Flexibility
Clearing Secretions, Enhancing Lung Capacity, Preventing Infections
Advising Optimal Positioning for Comfort and Pressure Sore Prevention
Who Benefits from Post-Surgical Rehabilitation?
Individuals who have undergone surgery and are grappling with pain, stiffness, balance issues, muscle weakness, reduced mobility, diminished exercise capacity, and independence will immensely benefit from a post-surgical rehabilitation program. The impact of surgery can extend beyond physical aspects, affecting psychological well-being, which can influence recovery. Our proficient physiotherapists conduct a thorough assessment, setting short and long-term goals to maximize your recovery potential and minimize post-surgery complications.
Embark on Your Recovery Journey with Physioheal
To access expert post-surgical rehabilitation, schedule an assessment with our experienced physiotherapist, Dr. Divya Gaur, at Physioheal Physiotherapy Gurgaon. Book an appointment now by calling +91-9999259307, booking online, or requesting a phone consultation. Physioheal, led by the esteemed Dr. Divya Gaur, stands as the premier destination for best physiotherapy in Gurgaon. Our dedicated team offers personalized care and effective solutions for a wide range of conditions, ensuring lasting relief and improved well-being. As Gurgaon's leading physiotherapy clinic, we are committed to providing exceptional care under best physiotherapist Dr. Divya Gaur's guidance, making your journey to a pain-free life our primary goal. At Physioheal, we're dedicated to helping you regain your vitality and independence through comprehensive rehabilitation.