Why Pathkind Labs
Pathkind Diagnostics has been set up to provide access of superior quality diagnostics services down up to the Tier 3/ 4 cities/ towns (over and above the Metros and Tier 1 cities) by setting up the Labs there with an objective to provide Accurate results/ reports using state of the art technologies in the least possible time (Quick Turn Around Time) at Affordable Price.
1 World Class National Reference Lab
75+ Labs
2000 Collection Centres
1,00,000 Satisfied Customers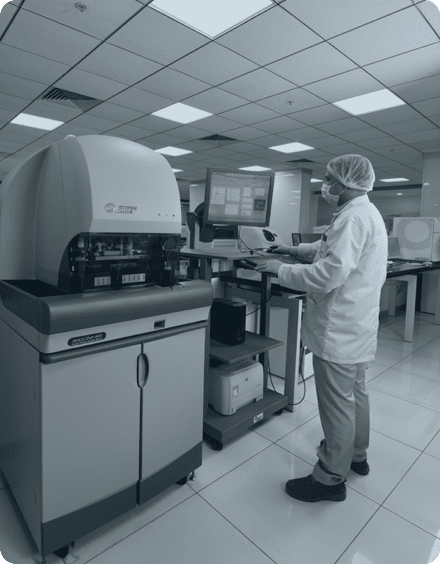 Our Values





Best Pathology Lab in Gurgaon
Scientific experts who work in pathology deal with illnesses and diseases. Pathology involves detecting a health problem to help doctors prescribe the right treatment for the patients. So, pathologists play a very important role in medical care and so do pathology labs. The best diagnostic centers in Gurgaon are equipped with cutting-edge genetic technologies to carry out all types of pathology tests.
Pathkind Diagnostics are the best pathology lab in Gurgaon. We offer superior quality diagnostic facilities to help doctors, hospitals, and medical institutions in providing medical care. A trusted name among diagnostic labs in Gurgaon, we are known for their quick test results and accurate reporting. With a patient centric approach, we offer general-purpose pathology tests at highly affordable price.
Get accurate pathology tests in Gurgaon
Our pathology labs are accredited by the National Accreditation Board of Testing and Calibration of Laboratories (NABL) in India and by College of American Pathologists (CAP) in the USA. So, our pathology labs and testing results are trusted across the globe. Moreover, the accreditation process is repeated every 2 years by NABL and every year by CAP. It's a rigorous process and means we have consistently maintained high standards of testing at all our pathology labs in Gurgaon.
Full body health checkup and pathology testing
If you are looking for a pathology lab that provides full body health checkup and diagnostic, look no further. We offer all kinds of blood tests, urine tests, stool tests, and other pathology tests. Apart from having dedicated teams of doctors, pathologists, and skilled medical professionals, we also have the best infrastructure and testing facilities to solidify our spot as the best path lab in Gurgaon.
Easily reachable pathology labs in Gurgaon
As considerate medical service providers we have selected our pathology lab locations in Gurgaon with great care. All our labs are located nearby hospitals and medical institutions to provide easy accessibility for patients and their relatives. Sample collection and reporting is also made easier with priority services and instant online access to your test results. We also provide home sample collection for patients.
Pathology lab offering home sample collection in Gurgaon
We are offering home sample collection for patients in the immediate vicinity of our pathology sample collection center in Sector 56. You can simply call our helpline number to book an appointment and we will send a trained medical professional to your home. The home sample collection is done using sterilized equipment and we have latest mobile storage facilities to transport the samples without contamination.
Our Diagnostic Services
As the best pathology lab in Gurgaon, we offer several lab test packages. We offer prescription-free lab tests for basic health checkups. But you will need a doctor's prescription for illness and disease tests. Here are the diagnostic lab services we offer in Gurgaon:
Blood Pathology Tests
Blood tests are the most common pathology tests recommended by doctors in case of illness or disease. We offer blood tests in Gurgaon both as part of our Healthkind packages and for doctor's prescriptions. You can avail our home blood sample collection services for easy access to pathology lab test in Gurgaon.
Urine and Stool Tests
A common test for health checkups and for detecting stomach, kidney, and liver diseases, these tests require accurate sample collection and testing. We have the facilities needed for collecting and testing urine samples. Again, you can opt for home sample collection in Sector 56.
Diabetes Pathology Tests
Our pathology labs offer all kinds of tests for diabetes. With state-of-the-art equipment and trained staff, we provide accurate testing for Type 1 and Type 2 diabetes. If you are looking for FBS and HbA1c tests in Gurgaon, book your appointment online now.
Liver and Kidney Pathology Tests
All our labs are well-equipped for conducting pathology tests for liver and kidney diseases. We make sure the sample collection is done in sterile environment to ensure highest accuracy. From Urea to BUN and Creatinine tests, we offer comprehensive kidney tests. And over 12 tests for liver function including Bilirubin, SGOT and SGPT tests.
Heart Pathology Tests
We are also a preferred partner for cardiologists and heart surgeons for heart pathology tests. Our labs offer quick and accurate Lipid profile testing along with direct LDL test. You can book a home sample collection for Lipid profile testing from our pathology diagnostic center in Gurgaon, Sector 56.
Bone Pathology Tests
For bone related pathology tests, we offer vitamin D, calcium, and phosphorus deficiency tests. If your doctor has recommended a pathology test for bone diseases like arthritis, call our helpline for appointment or pathology sample collection at home.
Cancer Pathology Tests
Pathology tests also help doctors in identifying cancerous growths in the blood. We offer pathology tests for cancer detection. We provide superior quality diagnostics that are accurate and universally accepted by cancer hospitals and oncologists. Call now for booking a pathology lab test in Gurgaon.