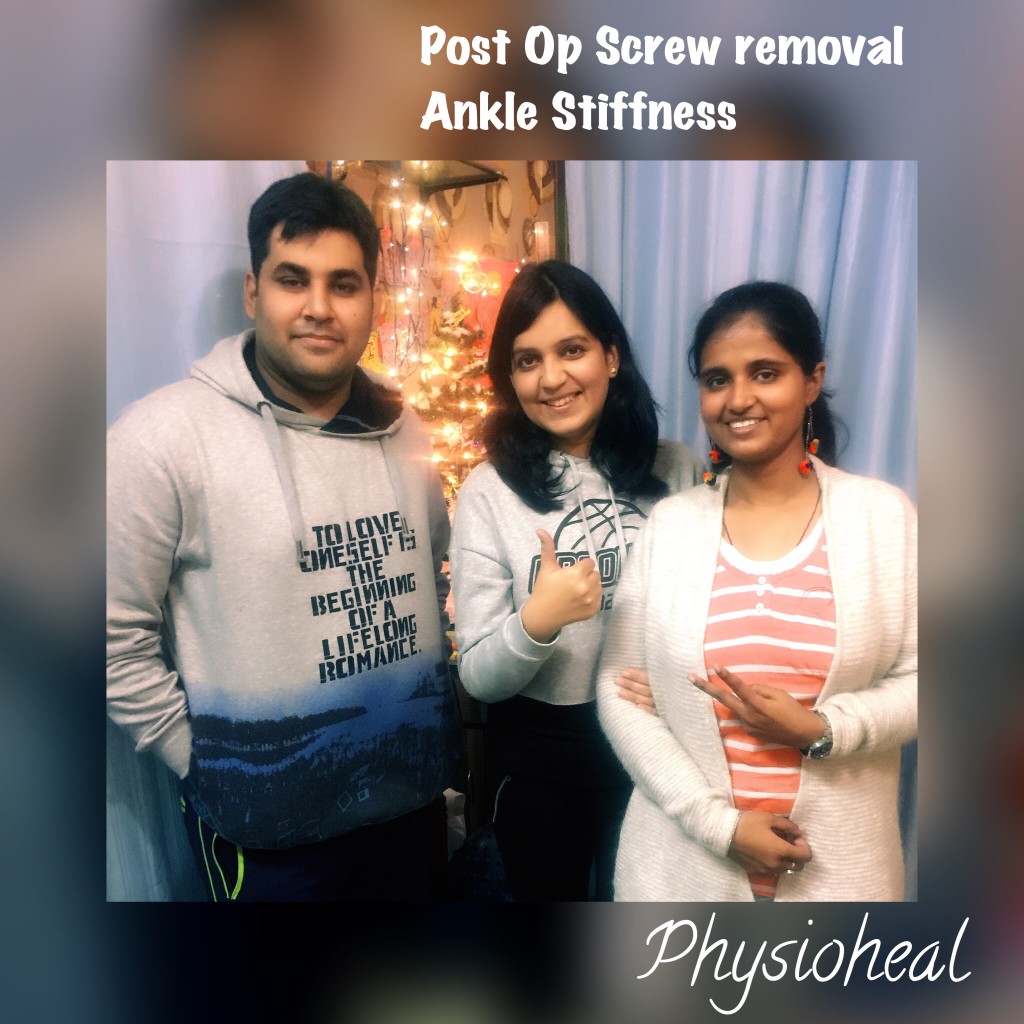 Our Patient at Physioheal has written a testimony about his treatment journey with us.
Name – Gaurav Bhagat
Age – 33 years
Job – Administrative Professional in $100 Mil company based in India
Residence – Rishi Nagar, New Delhi
Situation before Sessions – Morning Stiffness around right ankle joint , Night Pain in right ankle, uneven walking pattern, unable to walk for 1-2 km, unable to wear formal shoes to office/ and otherwise also.
Hi,
In Nov 2016 I had a screw removal surgery from ankle (Fixed after an accident, in which I had calcaneal and malleolar frature, in 2004).
But worse was still to come- its not over yet. As after screw removal I was not
able to walk again without a stick. My situation was still the same as before, so I started taking physio therapy in Dec
2016, From Dec 2016 to July 2017 I changed 2-3 Physio therapist as I was not able to get relief from any. The walking pattern was still not fine, few steps lead to pain in ankle, the same story persisted.
Also during this period I had to wear
strap sandles in office because walking with shoes -on was very painful ( Specially Formal).
Also, it may seem funny now but one of India's top 10 hospital's Head Orthopaedic Doctor asked me for Ankle replacement / Ankle Fusion surgery.
So while I was still looking for a solution to my problem, I visited one more physiotherapist in Gurgaon location Dr Divya Gaur @ Physioheal Centre . I decided to take her opinion as well. On my first visit Dr Divya assessed my situation very well & as I felt some conviction in the way she assessed me and explained the entire thing , I started taking Physio sessions at her clinic. In 8-10 sessions only I started wearing formal shoes again, No morning stiffness. After 10-20 Sessions I started doing Semi- Squats (which I was not able to do since 2004 due to screws in ankle and limited mobility of Ankle), able to run and walk for a much longer duration. Finally now I am taking session for more improvement.
I feel blessed and lucky to find her as my Physio , seriously Dr Divya Gaur and her team is doing a Great Job .
I would like to recommend all patients who are unable to find any relief from Physio sessions and are jumping one Physio clinic to the other time to time, visit her once, you will feel the difference 🙂
Regards
Gaurav Bhagat